Color Anodizing: A Less Daunting Challenge Than Perceived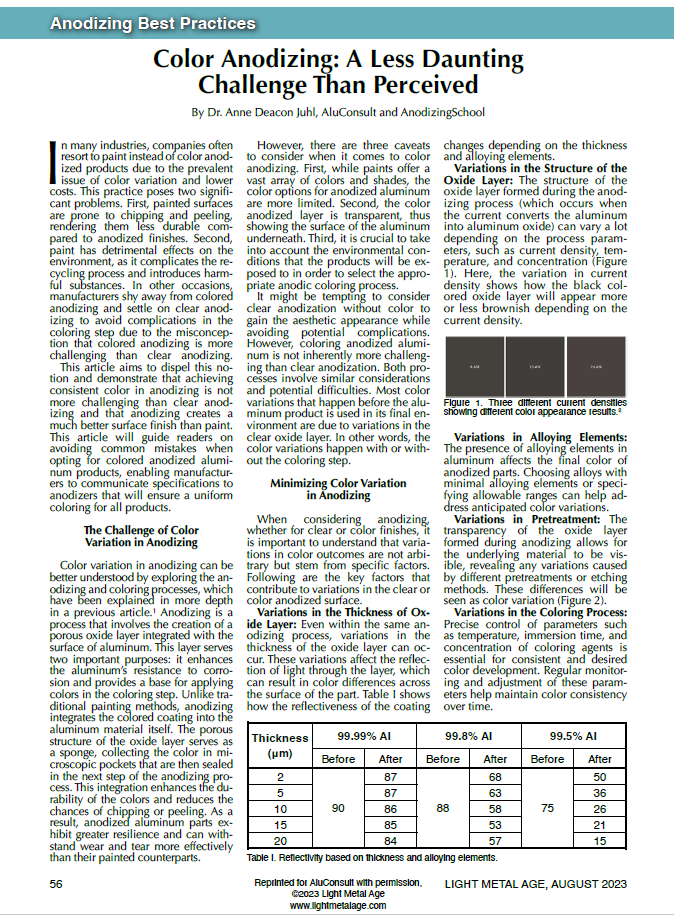 Do you still prefer paint instead of colored #anodizing because you worry about color variations?  
In my latest article for Light Metal Age, I prove to you that getting the right colored anodized surface for your #aluminum product is not as impossible as you think! 
👉 Don't miss out on this comprehensive guide that aims to make color anodizing less daunting and more accessible for manufacturers. 
🔍 Key Takeaways: 
– Understand why painted surfaces are less durable and environmentally unfriendly compared to anodized finishes. 
– Learn how precise control of parameters like temperature, immersion time, and concentration can lead to consistent color development. 
– Discover the impact of alloying elements and sealing processes on the final color of anodized parts.  
📚 The article also includes a case study that delves into the root cause of a yellowish hue appearing on aluminum panels used for building façades. 
Type you're info to get the article directly in your mailbox.
By signing up, you get access to knowledge, tips and offers to get better Anodized Aluminum parts in AluConsult's newsletter.
You can unsubscribe at any time.